Strong during the day, restful at night
Do you want to be naturally strong and calm inside? We would like to introduce you to six special adaptogens.
We rely on natural adaptogens
There are too many people during the day tired, stressed and come Not at rest in the evening! The result is poor performance in sports and work.

High quality adaptogens, can support your body in a natural way maximum physical and mental performance to retrieve. Exactly when you need it.

Since us the long-term health What is particularly important to our customers is that we completely avoid short-term boosters such as caffeine or chemical additives.
Adaptogens are a very exciting group of plants to which there are well-founded studies gives.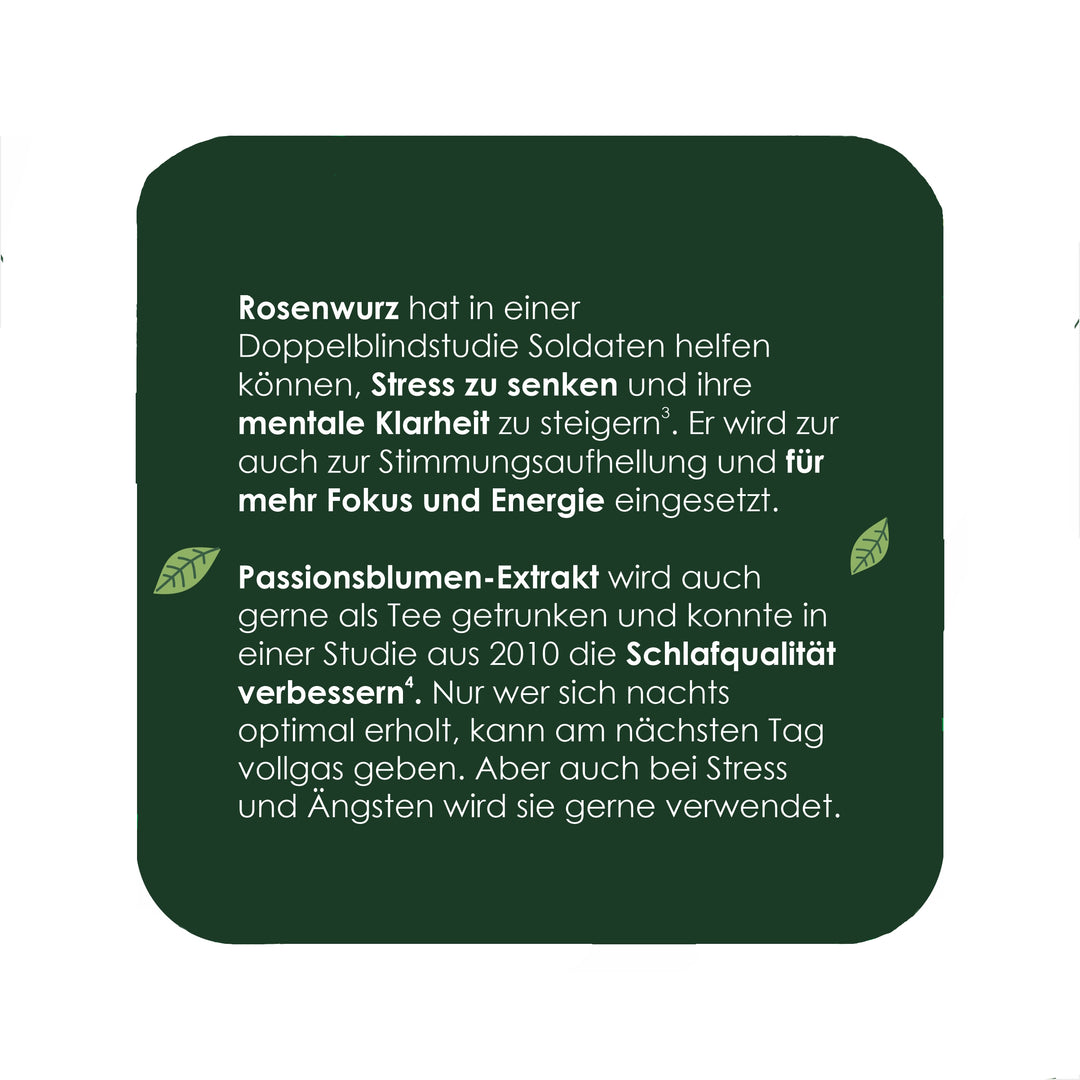 *All studies refer to individual adaptogenic plants and not to herb.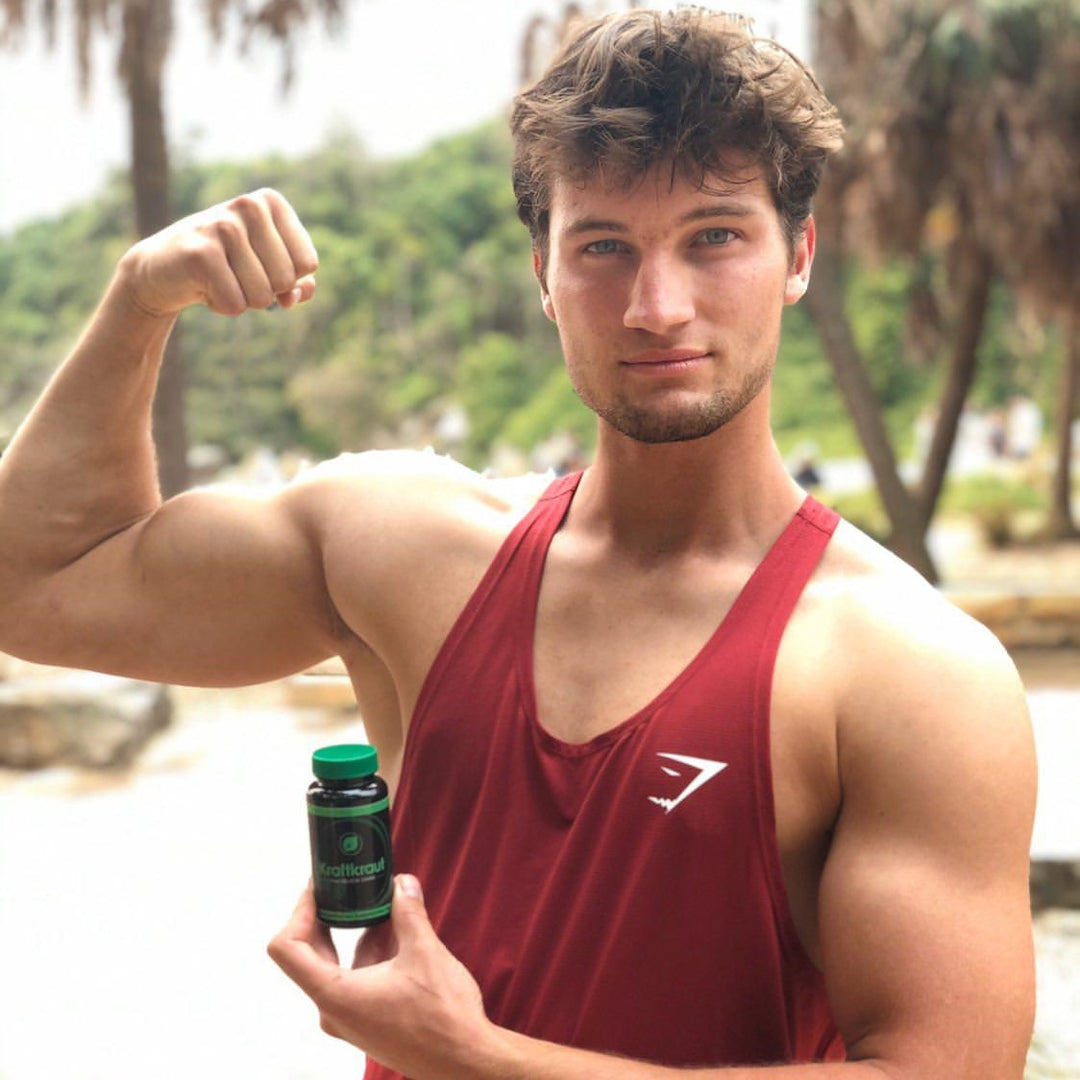 Nico
Kraftkraut helps me to stay calmer in everyday life, but also to achieve my goals in the gym. Of course, all without artificial boosters! Exactly what I was looking for!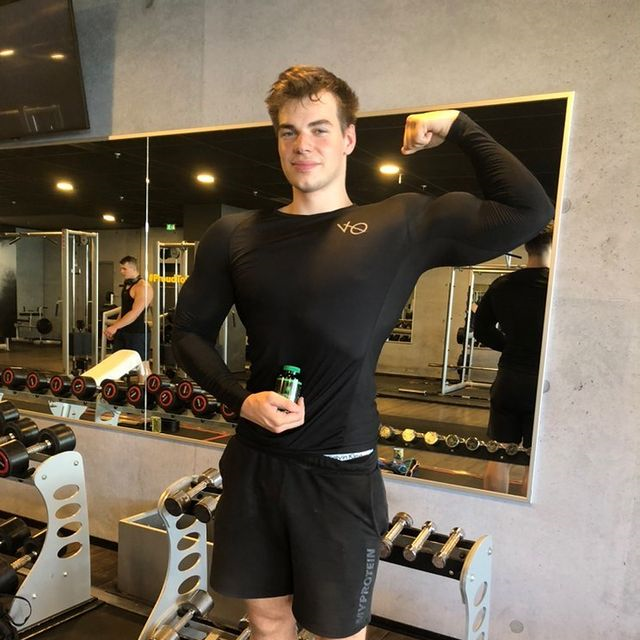 Chris
Was very positively surprised by Kraftkraut. Tried it and found it to be good!
Julia
My job as a geriatric nurse demanded a lot from me. The stress was really bad for me. That's why I was looking for something that would help me deal with stress better and find peace. And I'm thrilled!!!
6 high-quality adaptogens in one can
Order the premium product Kraftkraut now and try it out. Completely risk-free. If you don't like the product, we will refund you the money for a can!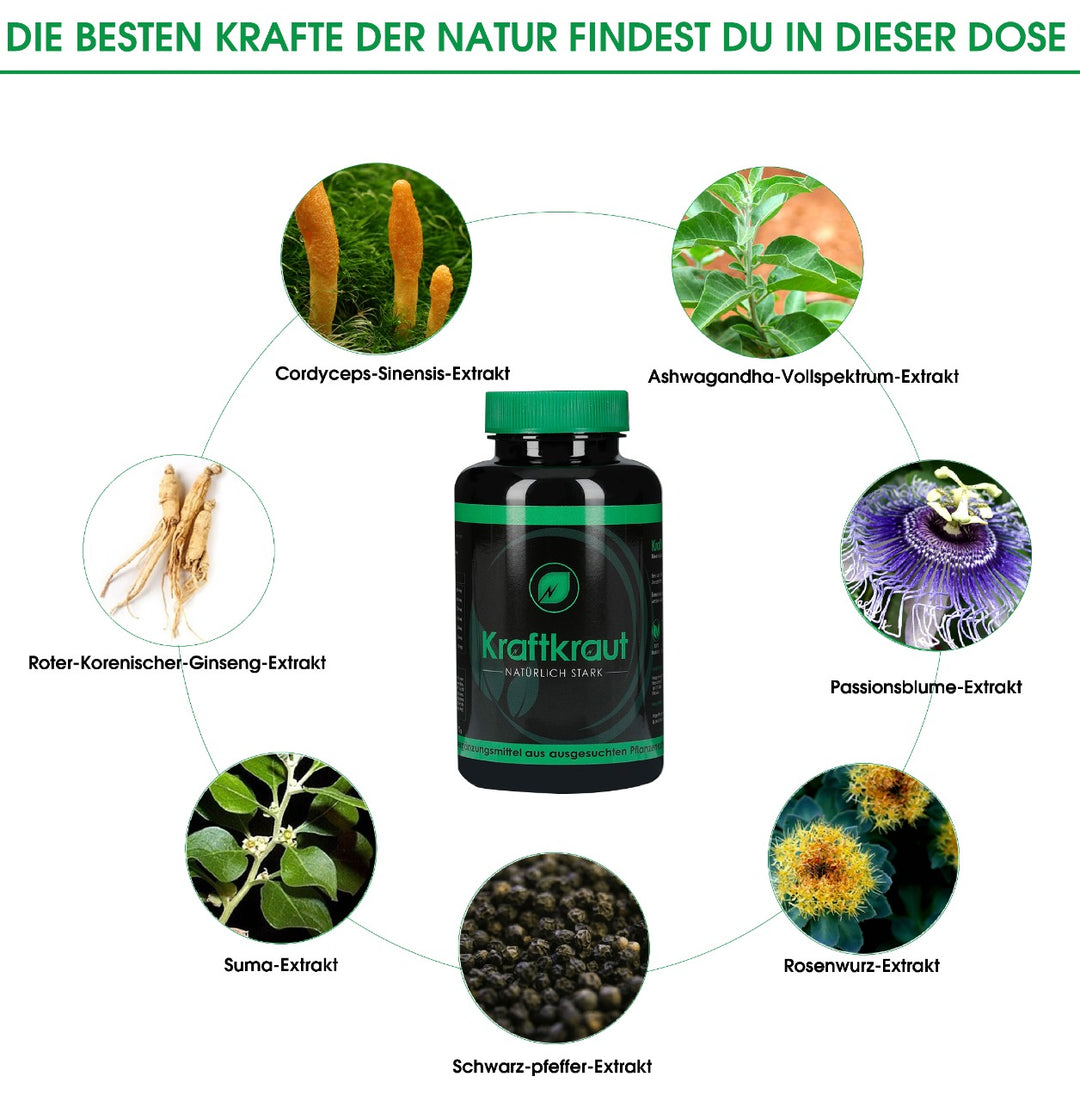 The story behind Kraftkraut
Let me tell you how I came to found Kraftkraut and what my story is behind it.
Learn more
My promise to you
Kraftkraut is an owner-managed company and as founder and managing director, I am responsible for ensuring that we only use the best and purest raw materials. If you are not satisfied, we will refund you the purchase price for a can.

David Schaller
Adaptogens of unique quality
There is a world of difference in the quality of adaptogens. Soil quality, growing time, the drying process and the extraction process all need to be carried out very carefully and diligently.

This is the only way we can ensure the high quality of our Kraftkraut adaptogens.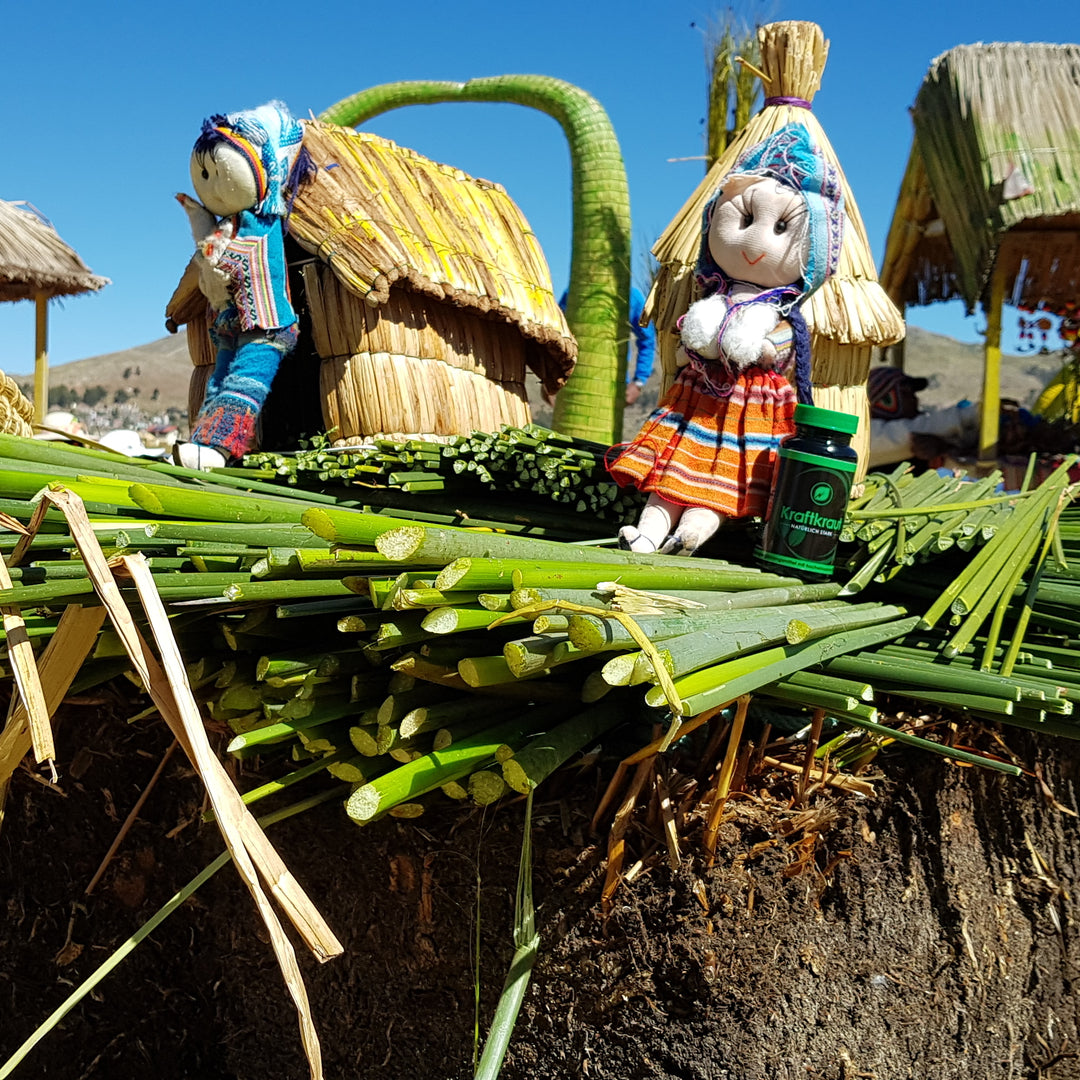 Strictly controlled for purity
Every single raw material in Kraftkraut is tested for purity. Including heavy metals, pesticides and bacteria.

This means we can guarantee a pure and unadulterated product.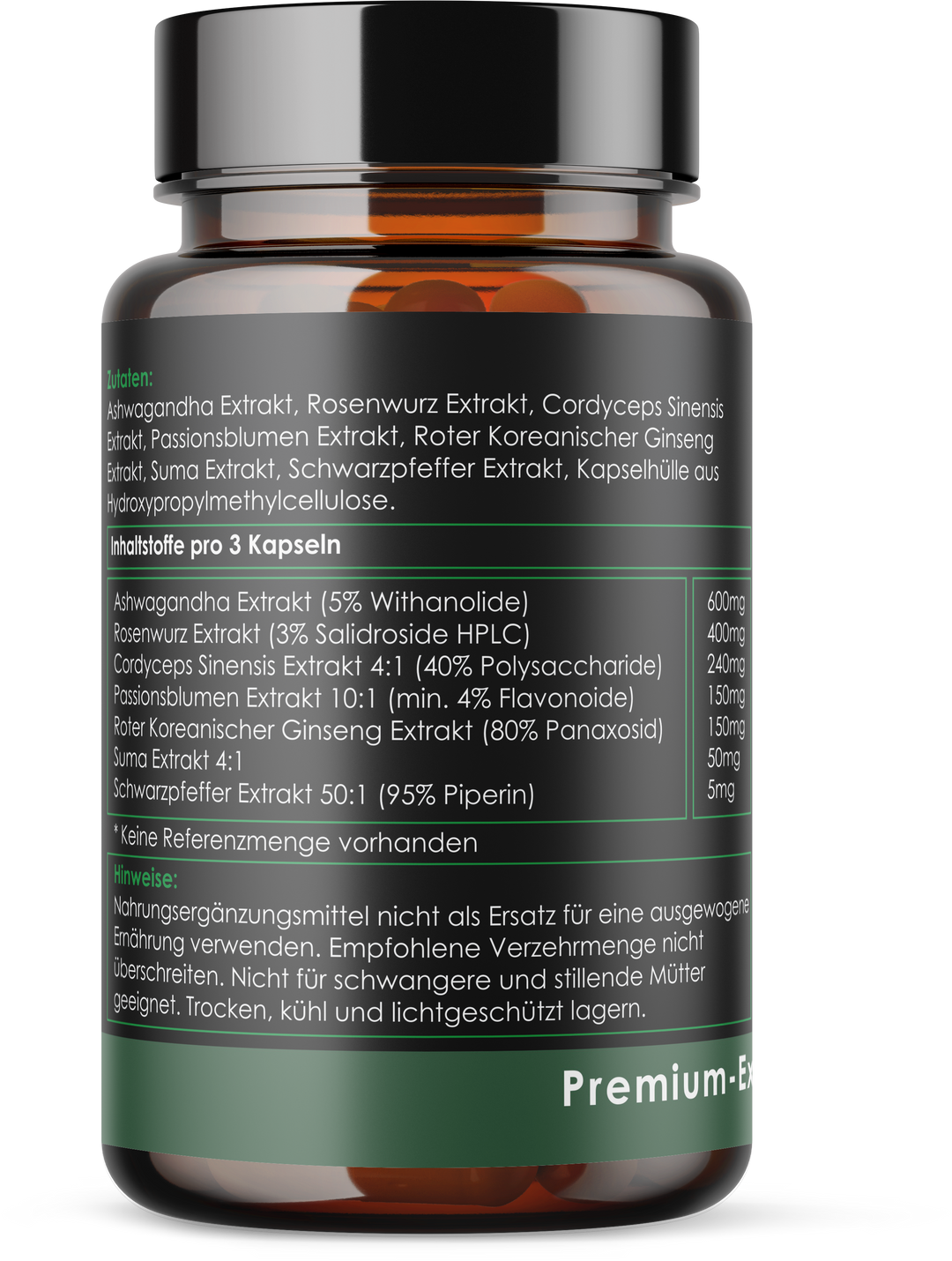 The ingredients in Kraftkraut:
Ashwaghanda Extract (5% Whitanolide) 600mg
Roseroot extract (2% salidroside) 400mg
Cordyceps Sinensis-Extract (40% Polys.) 240mg
Passionflower extract (4% flavonoids) 150mg
Ginseng Extrakt (90% Ginsensoside) 150mg
Suma Extract 4:1 50mg
Black pepper extract (95% piperine) 10mg

Recommended intake:
Take 3 capsules daily with a meal with a drink of water.
The can contains 90 capsules.

Legal notice:

Not suitable for young people under 16 years, pregnant women and breastfeeding mothers. Nutritional supplements are not a replacement for a healthy diet. If you have any questions, please consult your doctor, pharmacist or alternative practitioner.
Adaptogens are a group of plants. The term adaptogens is derived from "adapt" and describes that adaptogens help the nervous system deal better with stress.
Dietary supplements are not medicines, so we are not allowed to suggest specific effects for herb.

Kraftkraut was developed based on scientific literature and personal experience. Adaptogens such as passionflower can have a slightly calming effect just around 20 minutes after taking them.
Ashwaganda, on the other hand, best develops its full effect after taking it regularly for 10-14 days.
We buy from farmers in countries like Brazil, India, China, Germany and Peru.

After harvesting, all raw materials are tested for active ingredient content and purity.
Not suitable for young people under 16 years, pregnant women and breastfeeding mothers. Otherwise for everyone!

Yes, Kraftkraut is 100% vegan!
You can get a can refunded at any time. So you can try Kraftkraut without risk.
If you would like to let us know anything about Kraftkraut, send us an email to info@kraftkraut.com.
Medical disclaimer
All information on this website is for informational purposes only and is based on scientific studies on adaptogens and our own experience. There are no studies and no promises of effectiveness for powerful herbs. Dietary supplements are not medicines. If in doubt, please discuss your personal case with a doctor or pharmacist.

If you have any questions or notice any undesirable side effects, you can contact us at any timeinfo@kraftkraut.com Write to.